We had the pleasure o
f
delighting our customers and friends with the
showcooking
of our ambassadors
,
the HERMANOS TORRES
We have returned to Alimentaria 2022, the international food, drinks and food service trade show. Held in Barcelona, it is one of the most important fairs in Europe. Our stand has greeted clients and friends with a clear international commercial vocation that delivers results day by day.
The most special event of this edition has been the entertaining showcooking that we had the pleasure to enjoy, where the Torres Brothers (rated with 2 Michelin stars, COCINA Hermanos Torres) expressed their creativity in the form of four amazing tapas using FISAN products: Crusty bread with tomato and FISAN Acorn-Fed Ham; Parmesan cheese tartlet with FISAN Acorn-Fed Loin, truffle and raisin gelée; FISAN Acorn-Fed Chorizo cake; and Dentelle with Acorn-Fed Salchichón, truffle and almond.
It was broadcast live and is available on our Instagram platform @ibericosfisan. Don't miss it!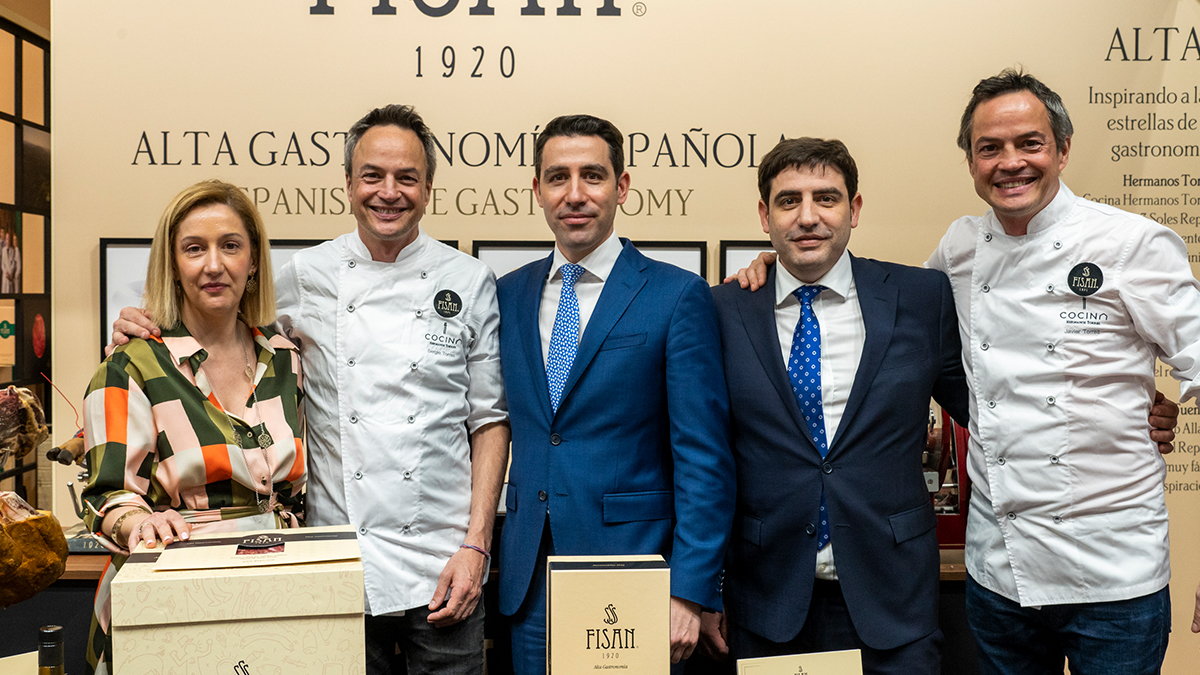 We shared our most important novelties with our clients, such as the IFS safety certification to
accredit our products, or the 3-star award (highest score) granted to our Alta Gastronomía Acorn-Fed Ham by the well-known International Taste Institute of Brussels.
As always, we must not forget to highlight the area of haute cuisine and its renowned collaborations, which provided a hot topic of conversation during the four days of the show.
MI BRASA supplied the HMB AC 110 oven, where tasting sessions of some of FISAN's acorn-fed meat products were held. Besides, the tastings were served with freshly baked homemade bread thanks to the collaboration of Triticum, a brand that is known for its traditional philosophy and essence in bread making. All this was presented on original and distinctively unique boards made of smooth, ultra-resistant and antibacterial material, specially crafted for the occasion by eCooks. Last but not least, we enjoyed the sophisticated selection of wines by Bodegas Matarromera that was offered as pairing to combine with the FISAN Acorn-Fed Selection.
We also enjoyed the attendance of José (acuchillocortedejamon) and Jorge (Jorge Casado cortadores), expert hand-carvers whose exquisite skills unquestionably raise our products to the highest expression of excellence.
Thank you all for coming once again to visit us at our stand!
Alimentaria 2022, always a pleasure. See you in 2024!