9 renown Chefs come out with their creations made with FISAN products, representing a tasty introduction to the International Forum on Ibérico
The fabulous FISAN Welcome Party took place on the evening before the official opening of the International Forum on Ibérico. At the Welcome Party 9 renown Chefs, with five of them boasting Michelin Stars, prepared surprising creations with FISAN acorn-fed Ibérico products at the new restaurant Vida&Comida Xperiences, hence adding value to the possibilities of the Ibérico flavor as a differentiating factor of the Spanish and Salamantino gastronomy.
Alfredo Matallana, owner of Vida &Comida took on the role of host along with Eva, Javier and Florencio Sanchez from FISAN. Ricard Camarena, José Carlos Fuentes, Iván Cerdeño, Miguel Ángel Cruz, Pedro Mario, Óscar Pérez, Paulo Airaudo, Sergio Bastard and Fran Vicente represented the Chefs that were invited to come out with their creations made with FISAN products, all this in the shape of an appetizer before the Forum and for the delight of the regional authorities pf the world of Ibérico, all prestigious gourmets and journalists working in the industry. The Institutional Representation was carried out by the Council Member for Culture, Tourism and Festivities of the city, Julio López Revuelta.
The remarkable ambience, magic and expectations to uncover the Chefs' creations turned the FISAN Welcome Party into an event overflowing with surprises and joy for those in attendance, replete with the Ibérico flavor of the guest Chefs' creations and of the FISAN acorn-fed products.
Steamed Ibérico Bun with Acorn-Fed Secreto Cut Pork 
This was the proposal created by Ricard Camarena, one Michelin Star and three Repsol Soles holder.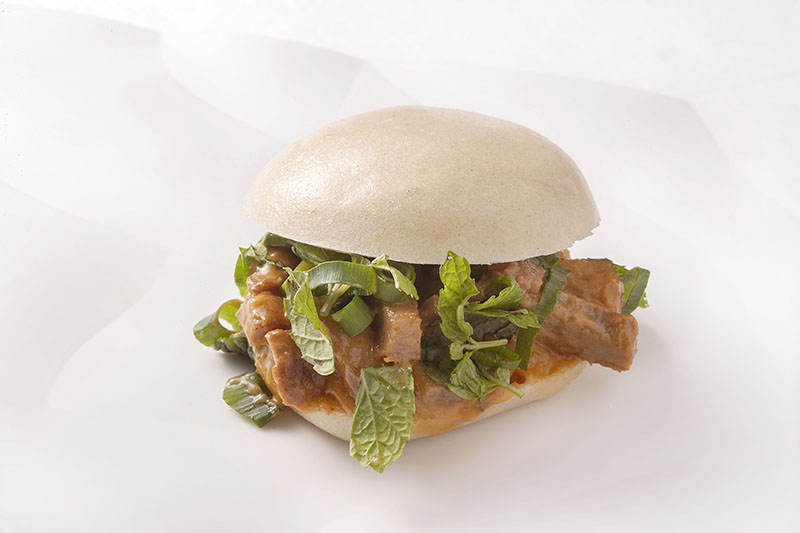 Acorn-Fed Ibérico Tartare
Created by Sergio Bastard, from La Casona del Judío (Santander), holder of a Michelin Gourman Bib and two Repsol Soles.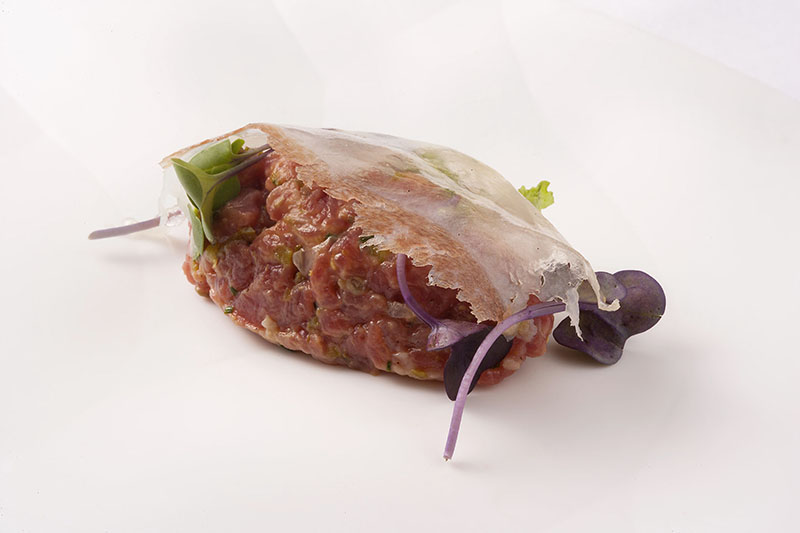 Acorn-Fed Ham with Bread and Tomato and Acorn-Fed Chorizo and Chocolate Bonbon  
Creation made by José Carlos Fuentes of the Restaurant Tierra Valdepalacios (Toledo), one Michelin Star and two Repsol Soles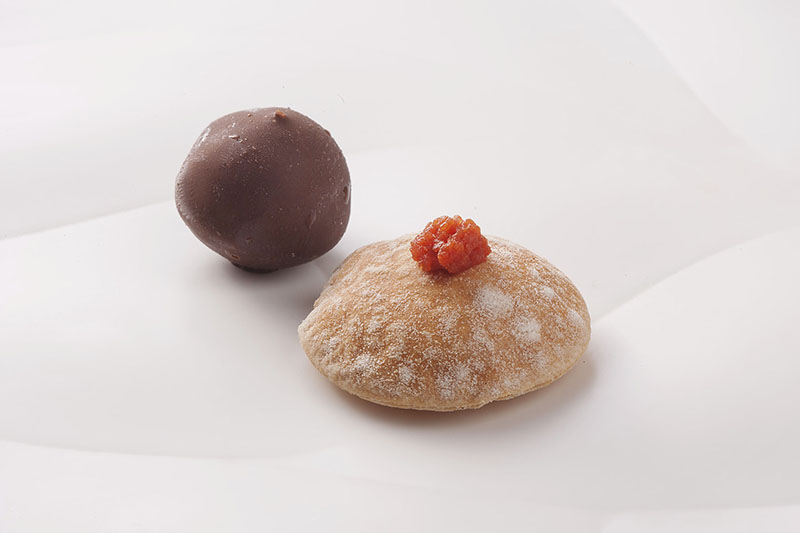 Acorn-Fed Ibérico Mille-feuille with Acorn-Fed Chorizo Sauce  
Ivan Cerdeño, of the Restaurant El Carmen de Montesión (Toledo), one Michelin Star and one Repsol Sol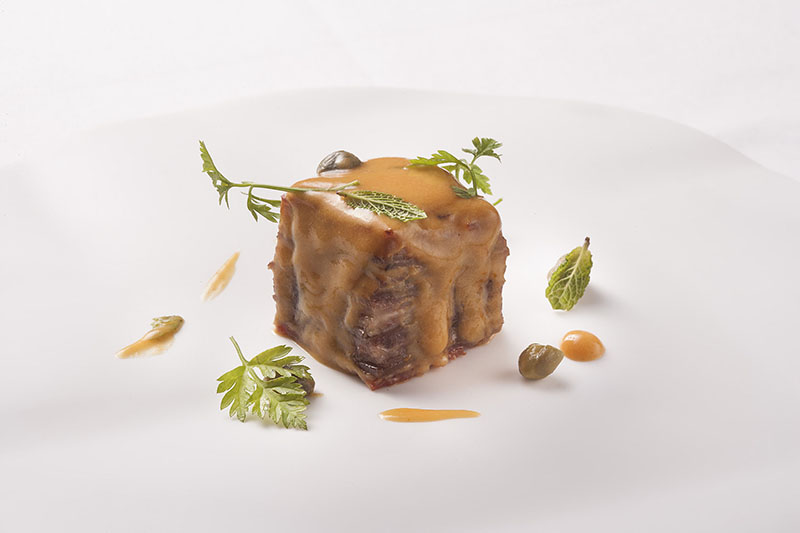 Ibérico Meatballs with Wild Mushrooms 
Miguel Ángel Cruz, of the Restaurant La Botica de Matapozuelos (Valladolid), one Michelin Star and two Repsol Soles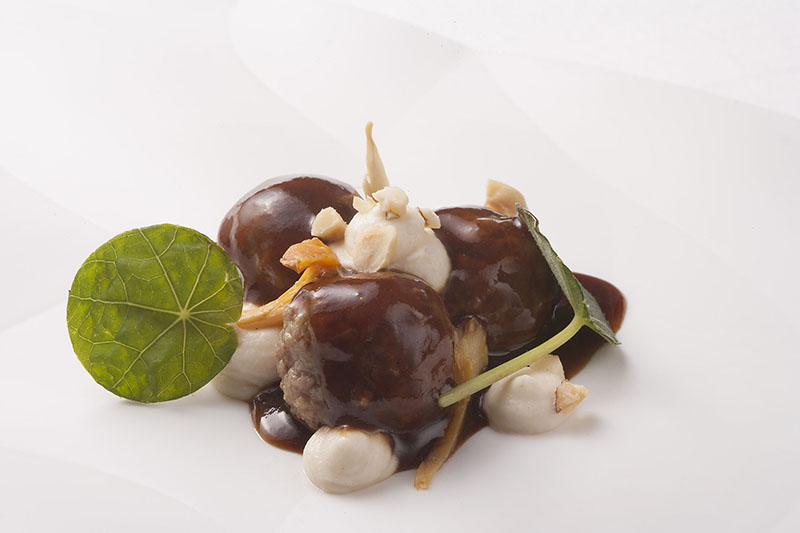 Makibérico
Alfredo Matallana, of Vida & Comida (Salamanca), Michelin Gourman Bib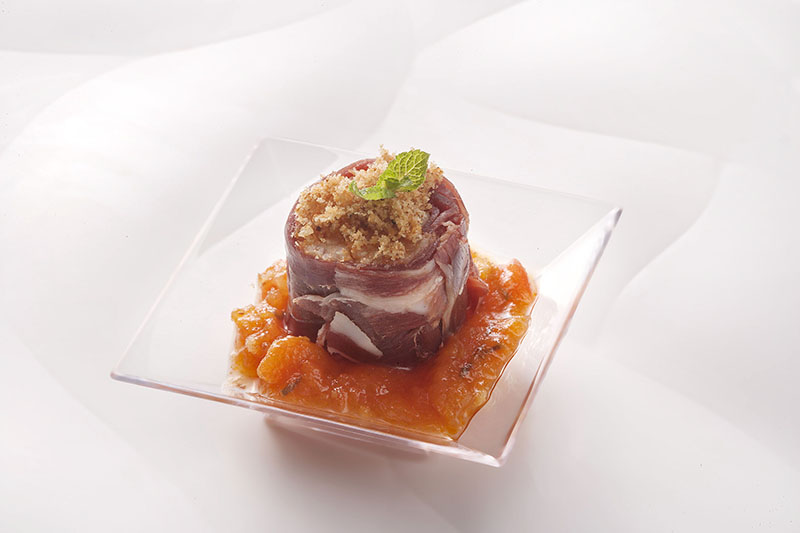 Acorn-Fed Ibérico Presa Cut Pork Tataki
Pedro Mario and Óscar Pérez, of El Ermitaño (Benavente), one Michelin Star and two Repsol Soles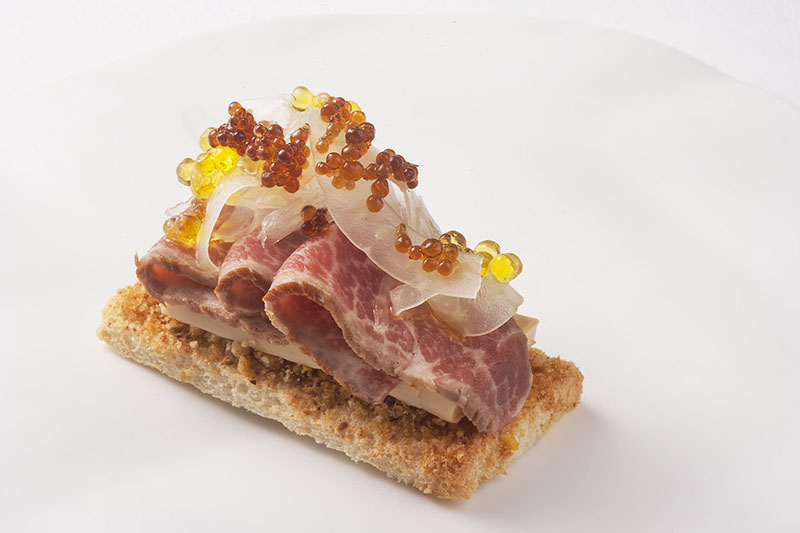 Ibérico in Textures
Paulo Airaudo, of Amelia (San Sebastián)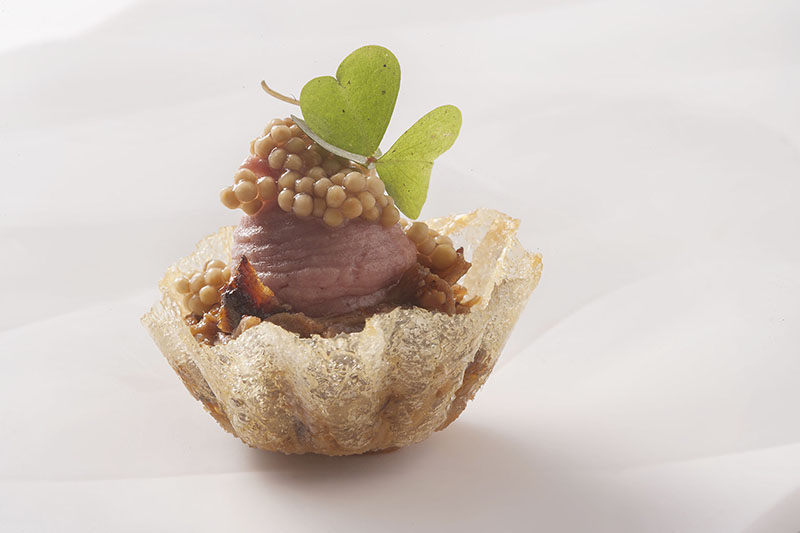 Acorn-Fed Ibérico Bao
Fran Vicente, of El Sainete (Madrid)