We begin November with enthusiasm, because the montanera period has just begun. Year after year, in this key moment, at FISAN, in the coming months and with high hopes, we keep a close eye on the lives of the Iberian pigs as they graze in the meadows.
The forecasts for this year are very good, since there is a high volume of acorns in every region, which is unusual; normally each montanera campaign varies a lot from one province to another. This means that our Iberian pigs, who are grazing in the best meadows in Salamanca, Extremadura and Andalucía, will enjoy large quantities of their favourite food.
On the other hand, we find ourselves enjoying weather conditions unseen in previous years: continuous rains at the beginning of September and the end of October, which ensured the acorns grew, in both size and quality.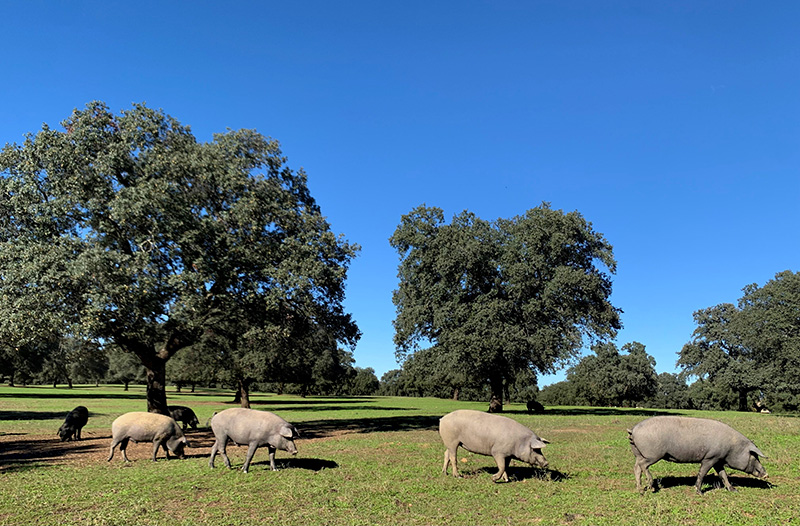 The meadows have ponds and marshes with the right quantity of water, as well as abundant grass, which is paramount for the primales –word used to designate the Iberian pigs when they begin the montanera period– to enjoy the meadow at their leisure when this time for grazing begins.
We would have to go back seven montaneras to find a year when the primales could start eating acorns at the beginning of November, given that rains have arrived late in recent autumn seasons. If it all follows this current course, at FISAN we will be able to start sacrificing the first acorn-fed pigs after Christmas Eve.
With these forecasts, and the favourable conditions we have in the countryside at the moment, we are sure that this grazing period will be rich in fruit and water, and will result in an exceptional acorn yield. One more year, our cured meats and acorn-fed hams will reach the excellence that, generation after generation, we have offered at FISAN for more than 100 montaneras.