HAM: THE STAR OF SPANISH GASTRONOMY
Ham is, literally, the back leg of the pig. The pig's "thigh" would be the fleshy part. Before enjoying Iberico ham meat, it requires a preparation and curing process. The first stage is salting, where the Iberico ham is covered with salt to facilitate its dehydration and preservation. It is subsequently washed and left to dry, which is where the natural ham curing process begins, followed by the maturation phase, during which it stands for months in our cellars.
The edible parts of Iberico ham are the maza, contramaza, babilla, punta and jarrete.
Composition and nutritional properties of Iberico ham
Both FISAN's Iberico Bellota Ham and its Cebo de Campo Iberico Ham are rich in proteins and oleic acid, providing a significant amount of minerals and vitamins, which makes a leg of ham's meat one of Spanish gastronomy's healthiest foods.
The fat of the ham itself makes it a very healthy product and contributes to raising HDL levels (good cholesterol) and to reducing LDL levels (bad cholesterol), as shown by studies on bellota ham.
Likewise, Iberico ham is a significant source of nutrients, including assimilable iron, vitamins, and trace elements.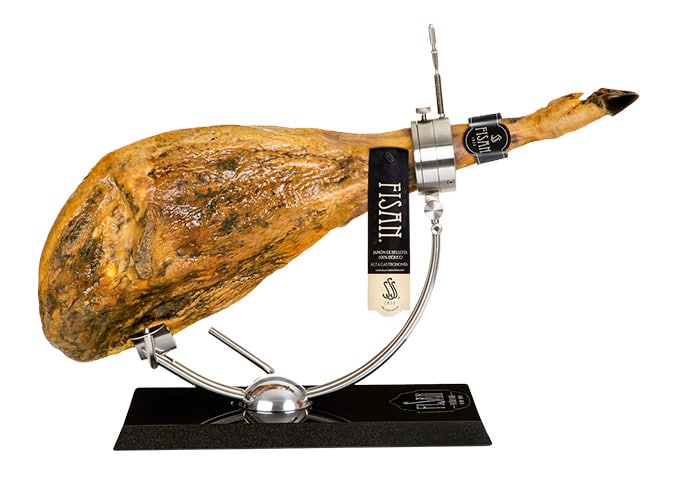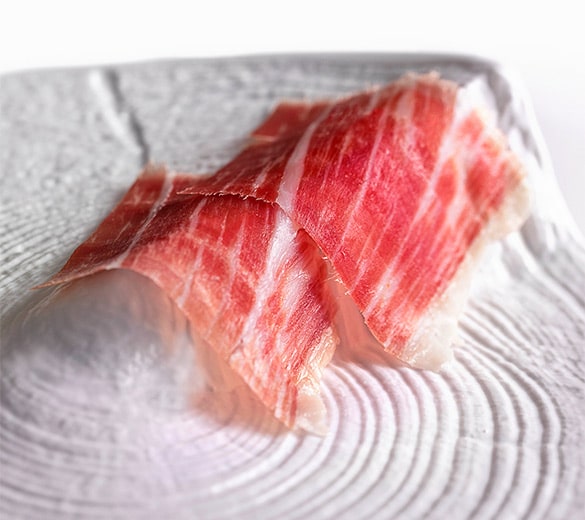 HAM'S UMAMI: THE TASTE OF A BELLOTA IBERICO HAM
The fifth taste, UMAMI, is also present in our Iberico Bellota Hams. A blend of sweet, salty, sour and bitter taste, traditionally explained as the elements that build the flavour of any food item.
This highly complex and difficult-to-explain fifth taste, which is only present in a few food products, is fully represented in bellota ham.
FISAN ham is characterized by its intense colour, with red hues that range between purple and pink, always with a balanced fat marbling. On the palate, it stands out for its tender and juicy texture and an aftertaste that is full of intense notes.
The production of our Iberico hams begins in the dehesa, where our experts select the best Ibérico mothers and fathers to ensure a high-quality raw material, the Iberico pig, which is discernible in the final result: a true FISAN ham.
Last but not least, our dehesas in Córdoba, Sevilla, and the south of Extremadura ensure the provision of optimal amounts of high-quality fruit for our Iberico pigs' diet to be fit for producing the best Iberico ham.
The control of the process, alongside the knowledge and proficiency of our ham experts, allows us to achieve excellence in the manufacturing of our Iberico products.
Our Iberico hams are stored in our facilities, located in Guijuelo, for the time required to reach the perfect curing degree and maturity in terms of flavour and tastiness.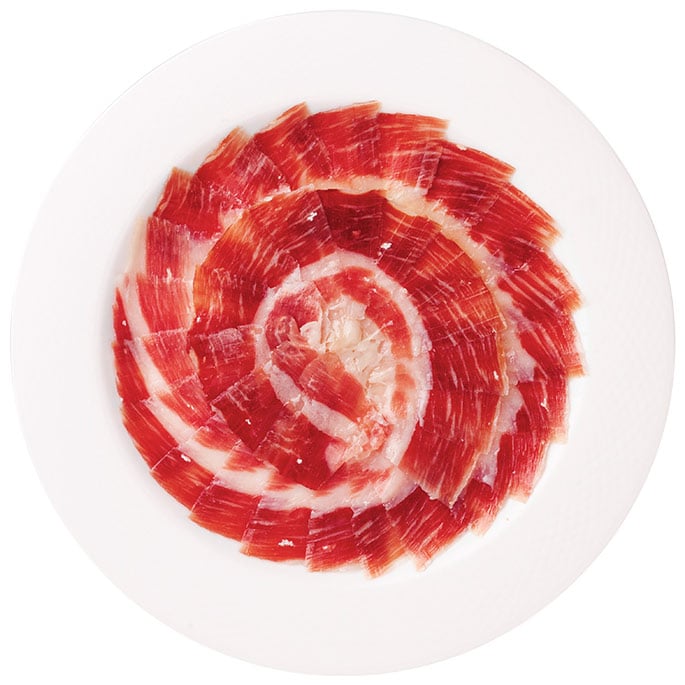 At FISAN we are sure that a dish with one of our products is a good starter for an extraordinary meal.
When preparing to serve at the table, FISAN follows a ritual. Ham and shoulder ham tasting require an exquisite presentation and must be well carved and served. You can start practicing by following our tutorial. Is this the only way? As you can see on another of our pages, our products are also available already sliced or hand carved. But be careful! They also require a part of the ritual to be followed.
In the case of ham and shoulder ham, you are about to consume a product that has involved 5 to 8 years of immense effort from the rearing of the pig until it reaches your palate, all for your full enjoyment and a delightful tasting experience. In the case of cured meats, between 3 and 4 years are required. Therefore, there are certain basic recommendations: wait until it reaches a temperature of 20-22 degrees, use a knife to carve it, and serve it arranged from the outside on a round plate, or, easier, in symmetrical and meticulously ordered rows. If you have acquired an already sliced product, wait until it has reached room temperature and, when its fat starts to melt, separate the slices and arrange them on a plate following the aforementioned ritual. It will delight the senses and the palate and will never fail you in important events or for unexpected last-minute occasions.

The six parts of ham and their different flavours
Discover the main parts of Iberico Bellota Ham and their different flavours, aromas, and textures.
HAM CARVING AND PRESERVATION
Discover how to preserve and cut Iberico Bellota Ham correctly. Here are all the tips and tricks to become a master slicer.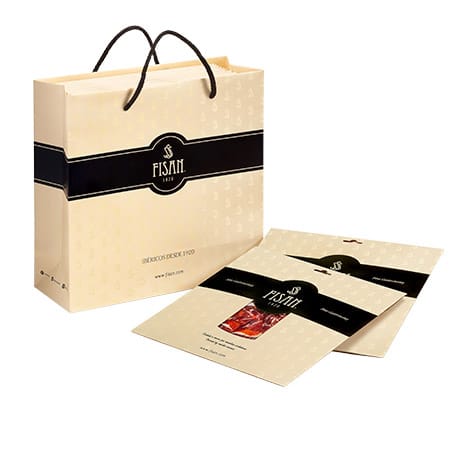 We will help you solve any doubts
FREQUENTLY ASKED QUESTIONS ABOUT HAM: FAQS
Its nutritional characteristics are helpful to control cholesterol, increasing HDL (good cholesterol), and reducing LDL (bad cholesterol). It is also rich in vitamins and minerals.
We recommend Iberico Bellota Ham, whether Iberico Bellota Ham 100%, 75%, or 50% Iberian Breed, since its aroma, flavor, and aftertaste afford a true gastronomic experience due to its amount of intramuscular fat marbling.
It is the pig's hind leg, the thigh being the most highly valued meat and that which is specifically prepared for the most exquisite tastings.