Presentation of Years 2014 and 2015 Ham Limited Edition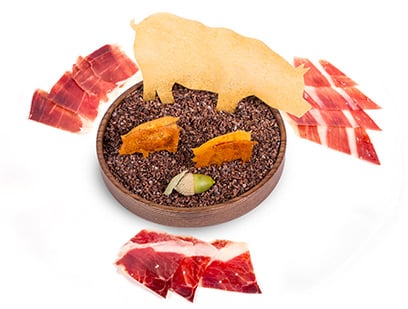 FISAN and DIEGO GUERRERO:
In the search for concepts that may enhance taste using the most refined techniques, Diego Guerrero's career and FISAN Ibéricos run along parallel tracks.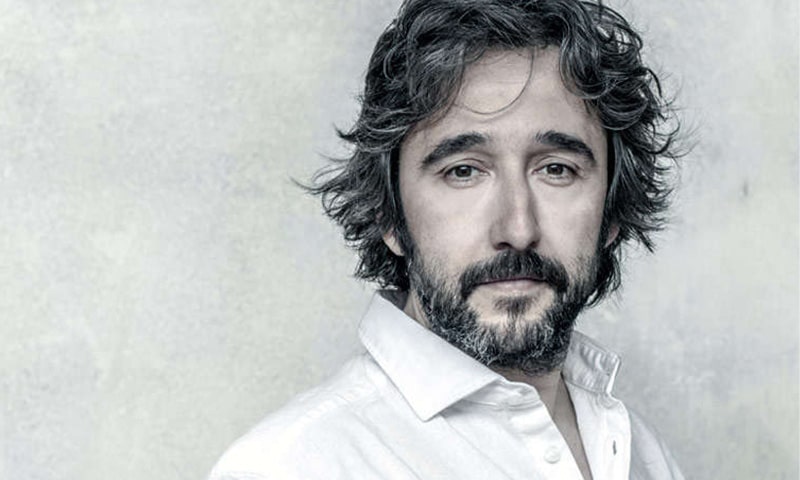 DSTAgE, Madrid.
2 Michelin Stars and 3 Repsol Suns
Diego Guerrero inaugurated his restaurant in Madrid on 1 July 2014 in the context of a personal project named DSTAgE Concept. Since it opened its doors, this gastronomic space has obtained 2 Michelin Stars, 3 Repsol Suns, and several prizes, such as the 2015 'Best New Restaurant' and 'Restaurant of the Year' awards by the Metropolis Magazine and chosen as the 'Best Chef' and 'Best Restaurant' by the readers of Gourmet Magazine.
Moreover, at DSPOT, he has set up a workshop focused on creativity linked to the world of gastronomy and all its related aspects, such as the execution of serving, design, techniques, and products.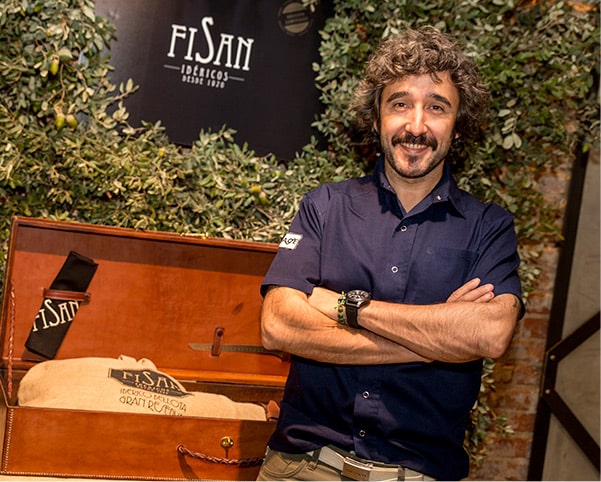 WHEN TRADITION MEETS
AVANT-GARDE HAUTE CUISINE
The most extraordinary traditional flavour makes its debut alongside the most modern haute cuisine in the kitchens of Diego Guerrero's establishments.
With the creativity of an artist and all the feeling and honesty he puts into his creations, Diego Guerrero manages to fascinate diners with haute cuisine dishes that are amusing, enjoyable, and, above all, brimming with taste due to the careful handling of the top-quality raw materials he uses.
Kitchen and haute cuisine laboratory
At FISAN, we entrusted Diego Guerrero with the preparation of a haute cuisine menu based on bellota Ibérico pork products for the presentation of the Year 2012 Haute Cuisine Limited Edition Ham.
The dishes created by Diego Guerrero using FISAN products were:
Melon with Ham, Boquerón Presumido, Crispy Pork Bun, Salmon Kokotxa, Algae and Sea Baby Squid Butter, FISAN Ibérico Pork Jowl, Ají Mochero Anticucho with Caridean Shrimp Salt, Grilled Ibérico Presa Cut, and Maize (dessert).
He is also the author of amazing dishes for FISAN, such as FISAN Ibérico Pork Jowl with Lettuce Heart and Piparra Chili Pepper, Dehesa Pork, Peppers and Ibérico Fat Rose, or Norway Lobster-Pork-Kombu, among others.
DIEGO GUERRERO'S RECIPES FOR FISAN