The flavour of the dehesa anytime and anywhere
PRODUCTION Loin and cured meat
The secret to producing the best Iberico cured meats lies in the raw materials they are made with.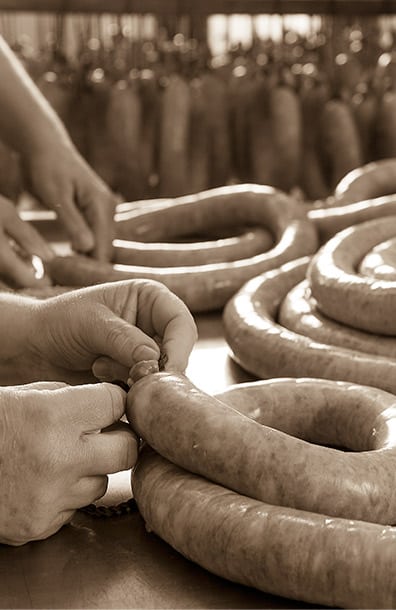 At FISAN we use the best lean meat parts of our Iberico bellota-fed pigs to obtain gourmet Iberico cured meats. The difference is that the meat used to make high-quality chorizo, salchichon, presa loin, or lomito comes from the noble parts of the pig.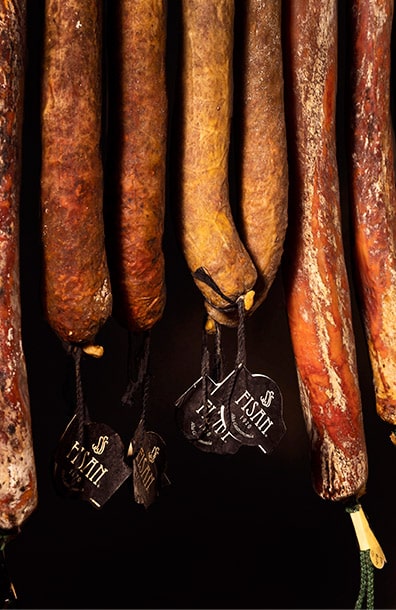 ARTISANAL AND TRADITIONAL PREPARATION
Preserving traditional flavour remains the basis of the preparation of our cured meats, following the steps of Guijuelo's pig meat tradition: selection of pieces, mincing, mixing with the appropriate proportion of the bellota pig's fat, spicing, whether using paprika from la Vera or pepper, following with the seasoning, fermentation, stuffing and, finally, drying. All these steps are to be followed with the greatest care to achieve the best-cured meats.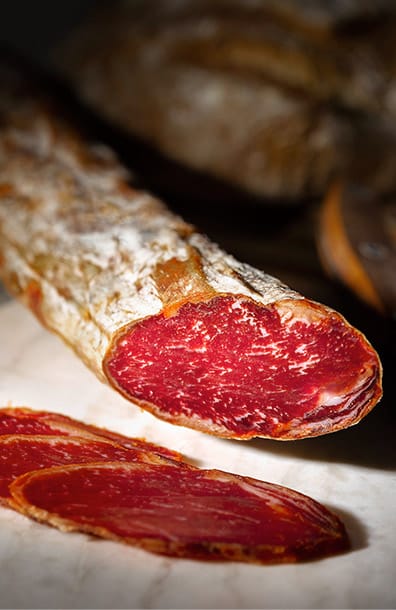 TRADITIONAL FLAVOUR CURED MEATS
Our chorizos and salchichones are characterized by an abundance of lean pieces from noble areas, such as presa cut or mogote, which we mix with fat from the same pigs that are sacrificed to prepare the batch of cured meats. After mincing, mixing, and spicing the meat, the resulting firm dough is left to rest at a low temperature of around 4ºC so that it ferments and becomes ready for stuffing. Already settled and compact, the process of stuffing it into natural casings begins.
All our bellota loin pieces, chorizos, and salchichones are stuffed into natural pig intestine casings, which allows them to preserve their flavour unchanged.
They will then be left to stand for up to 4 months in our drying rooms.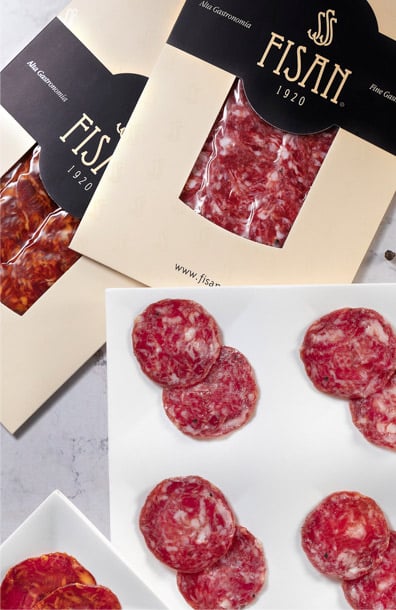 May and June are the ideal time to purchase and enjoy FISAN bellota cured meats since it is when those made from the pigs of that year's montanera have just been removed from the drying rooms and are therefore at their optimal time for consumption.
HAM AND SHOULDER HAM PRODUCTION
At FISAN, we have been working for more than one hundred years to achieve the best bellota flavour that you have ever tasted in an Iberico ham.
THE BEST PRODUCTS AT YOUR FINGERTIPS