Fineness and delicious flavour on your table
Manufacturing of iberico products
The preparation cycle of a FISAN Iberico product begins in the dehesa. Our Iberico pigs feed on grain, herbs and bellotas during the montanera period. After more than 24 months, it is time for the production plant stage, where the ham, shoulder ham, loin and cured meats are selected and separated. Although their production and drying processes differ, all our products share certain characteristics: selection of the meat, composition and analysis, traceability, and a careful, rigorous and patient processing until they are all stored in our natural drying rooms and cellars.
To ensure the excellence of these processes, FISAN's staff trains for several years. The three-generation tradition we have inherited is always followed, adding their knowledge, expertise, study, and analysis during each stage of the process.
One thing that characterizes the preparation of a gourmet iberico product, it is rigour and carefulness in each stage of its manufacturing process.
FISAN's products are prepared with the utmost care by a team with extensive experience, a long tradition and a passion for the Iberico product. This leads to the achievement of pieces that offer fineness and exquisite taste to consumers who appreciate their quality and traditional flavour.
HAM AND SHOULDER HAM PRODUCTION
At FISAN, we have been working for more than one hundred years to achieve the best bellota flavour that you have ever tasted in an Ibérico ham.
LOIN AND CURED MEATS PRODUCTION
The secret of preparing Iberico cured meats lies in the raw materials used and in the work of the master butcher.
QUALITY AND KNOW-HOW:
THE KEYS TO OUR DELICIOUS FLAVOUR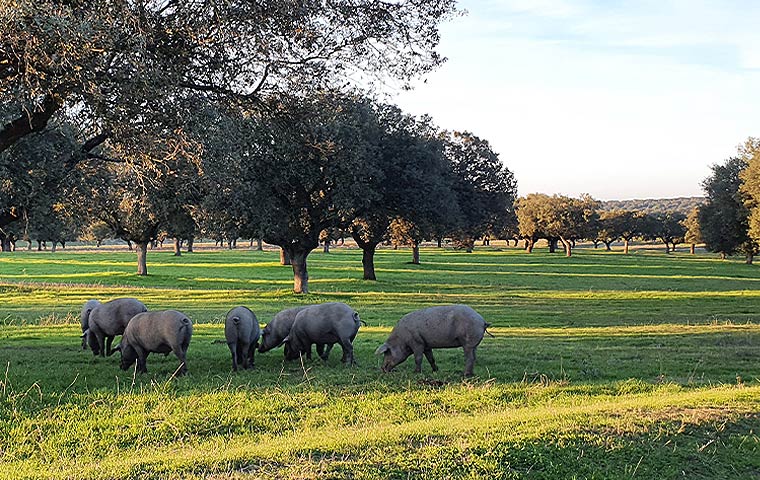 A passion for the Iberico pig
To ensure the extraordinary quality of our products, at FISAN, we have a very close relationship with farmers; and we regularly visit the dehesas where the animals are reared checking that the montanera is satisfactorily progressing and to monitor our pigs' bellota-based diet.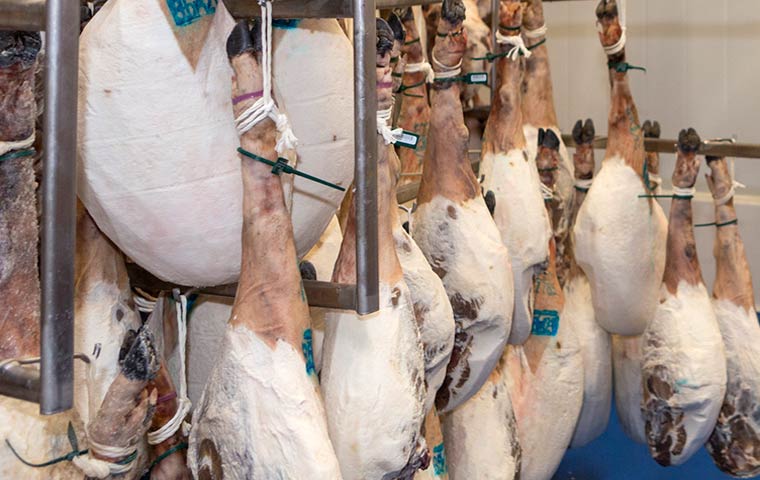 Iberico artisans since 1920
At FISAN, we have our own slaughterhouse and cutting plant, which is a major benefit when it comes to ensuring the highest quality and food safety control during each stage of the process. This is the phase where we start classifying our Ibérico hams.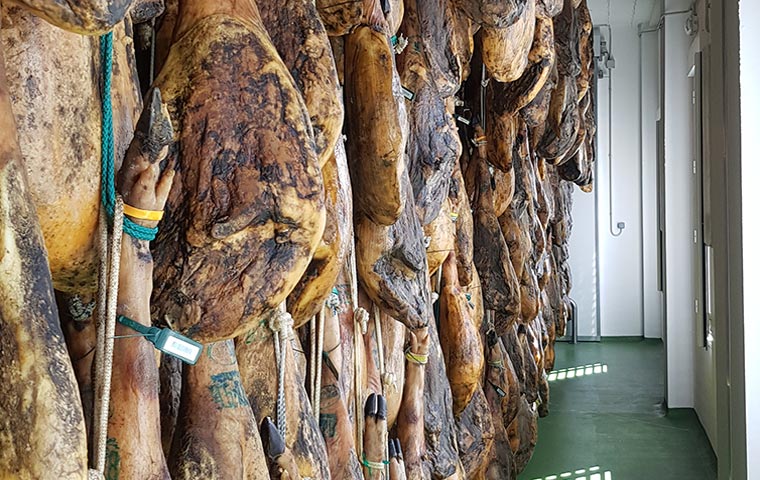 Traditional and technological innovation: the perfect combination
With the highest respect for artisanal preparation, at FISAN, we have included the improvements offered by the new technologies that are currently on the market, introducing food safety and traceability measures for our products, and we are currently implementing digitalized management. At our 7,500 m2 modern facilities we ensure the highest quality of FISAN's Ibérico products, adding cutting-edge technology to traditional know-how in the production process.
THE BEST PRODUCTS AT YOUR FINGERTIPS