Presentation of Year 2018 Ham Limited Edition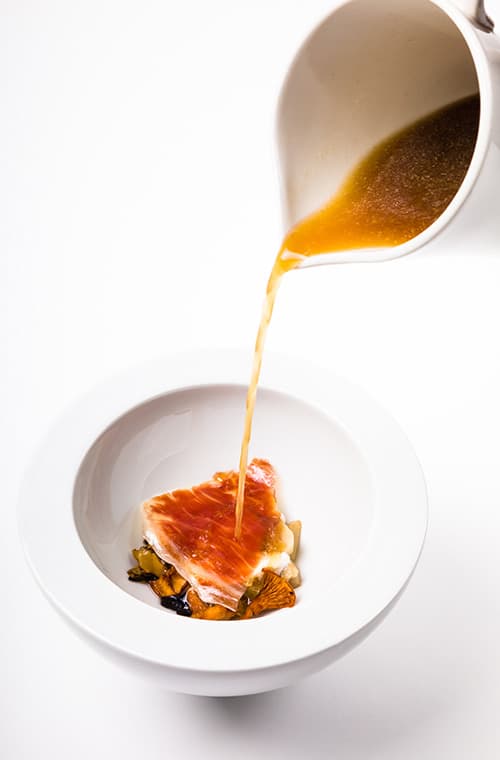 FISAN AND JOSÉ CARLOS FUENTES:
As every year, before the montanera begins, at FISAN, we present our Alta Gastronomia Limited Edition Ham, in this case, corresponding to the Year 2014 season.
At the presentation, the Haute Cuisine Ham, once again took centre stage and received all the applause. And it is no wonder since the 55 exclusive pieces, personally selected by the Sánchez family, were the crown of their cellar and icons of a very distinctive way of achieving excellence in ham production.
Friends, critics, and press witnessed the presentation of the Year 2014 Ham at El Club Allard in Madrid, with José Carlos Fuentes as the person in charge of the amazing menu prepared using FISAN bellota products.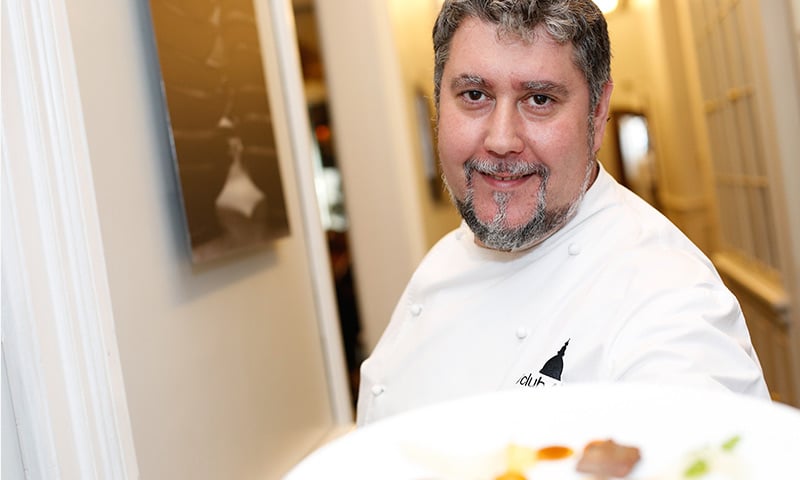 El Club Allard.
1 Repsol Sun
José Carlos Fuentes was the chosen chef to present our Ham Limited Edition Alta Gastronomia 2014.
Chef José Carlos Fuentes found inspiration in the artisanal preparation of FISAN's products, which he witnessed when he visited FISAN's facilities. During the visit, José Carlos Fuente began to outline the first sketches of the splendid menu he created using Haute Cuisine Year 2014 Ham Limited Edition, in line with the picture he had seen at the Sanchez family's cellars: the greatest care, gentleness, patience, and high doses of tastiness.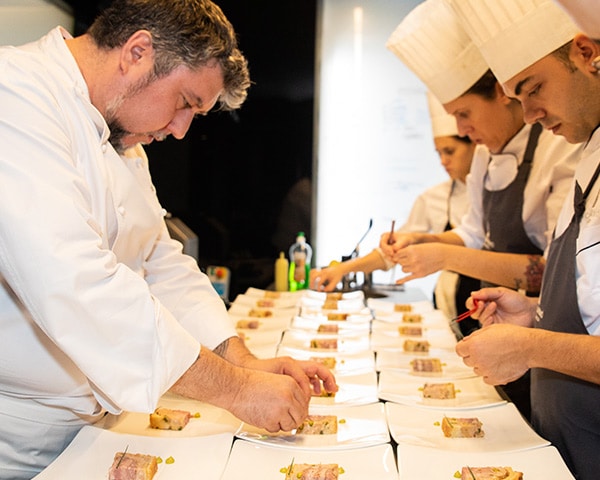 THE FLAVOUR
ON THE ALTA GASTRONOMIA
FISAN products inspired a menu that included bellota Iberico products in every dish while also capturing FISAN's essence. The result was an amazing and exclusive menu that surprised all those who attended the presentation of the Year 2014 product. The appetizers, starters, fish and meat dishes, and even the desserts brimmed with José Carlos Fuentes' inventiveness and celebrated FISAN's flavour. A resounding success.
El Club Allard is one of Madrid's gastronomic temples. The prestigious José Carlos Fuentes runs its kitchen, where top chefs such as Diego Guerrero, or María Marte, have cooked.
El Club Allard is far more than a haute cuisine restaurant and, while not a social club (although it was inaugurated as such in 1998), it hosts first-tier social gatherings, art exhibitions, and private events, always under the auspices of its exquisite cuisine, the establishment's soul and raison d' être.
As for its cuisine, it is one of the most renowned restaurants in Spain. In 2018, it initiated a new stage under the management of Chef José Carlos Fuentes, who contributes his personal view of haute cuisine.
JOSÉ CARLOS FUENTES RECIPES FOR FISAN