Diced ripened cheddar cheese
FISAN Iberico
Bellota Ham 50% Iberico Breed[m1] 
Small basil leaf
Small cherry tomatoes
100 ml extra virgin olive oil
4 dried tomatoes
3 peppercorns
Salinas de Añana salt flakes
Thyme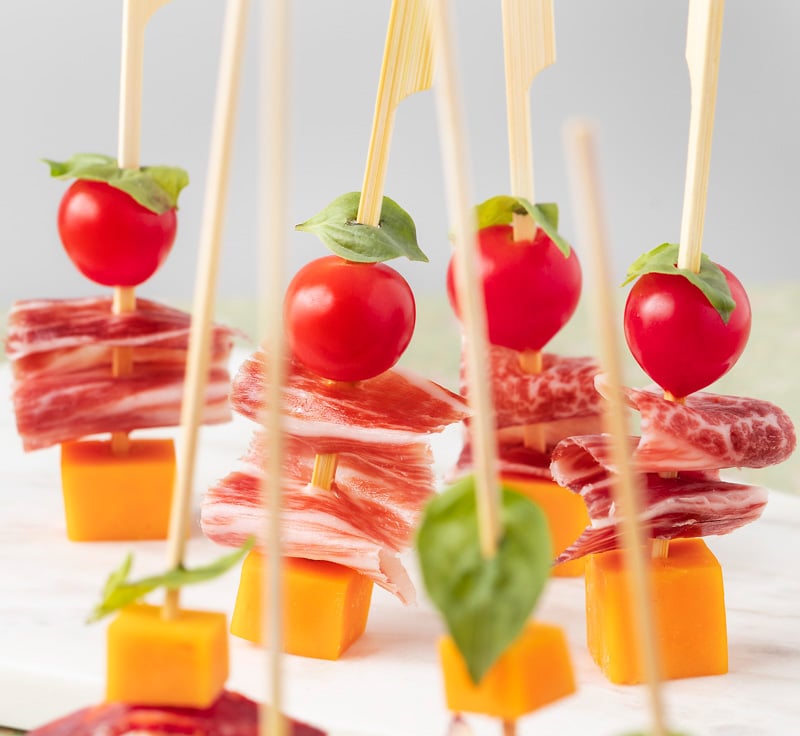 Put the extra virgin olive oil together with 4 dried tomatoes in a jar that can be closed, so that the tomatoes rehydrate with the oil. Add half a teaspoon of salt flakes, the 3 peppercorns, and a sprig of thyme to taste.

Macerate for 3 hours. After this time, the oil will have acquired enough fragrance to be served as an accompaniment to soak the brochette's cheese.
Dice the cheddar cheese into small cubes, as perfectly as possible.
Open a sachet of FISAN Iberico bellota ham 50% Iberico breed, which should have been taken out of the fridge 15/20 minutes earlier.
Take the ham out of its package slice by slice. Separate the longest slices. Prepare the tomatoes: wash them with water and set aside. Choose the small basil leaves that will give the combination its fresh flavour.
Spear the basil leaf on the long brochette skewer, along with the small cherry tomato, which, if medium-sized, can be cut in half. Also, fold two slices of ham in half and skewer them, separating them a little so that they do not stick to each other. Finally, add the cheddar cheese cube.
FISAN BELLOTA HAM BROCHETTE PRESENTATION
Place the brochettes vertically on a tray, considering that the base of the dice should be flat so that the brochette can remain standing. Separate the brochettes so that there is enough space to take them without the others falling. Accompany with the oil in a small bowl to be able to lightly dip the cheese.