The Four Seasons Hotel, Madrid's temple of luxury, has provided the perfect setting to present two unique pieces: FISAN Ham Centenary Edition (2015) and FISAN Ham Limited Edition Alta Gastronomia (2019).
Patience is the key to savouring a gastronomic masterpiece. Sometimes, more than eight years must go by until an exclusive piece, from a unique ecosystem as is the Dehesa, can be enjoyed. During such time, FISAN Hams have been cured with care and patience in natural dryers and cellars, in a dark and quiet atmosphere.
After 100 months, a natural preparation process and the selection of ham experts, the lucky ones who have been able to take pleasure in tasting the best pieces of our 2015 and 2019 pieces have been those attending the experiential dining event organized by FISAN
at one of the capital city's "places to be": the Four Seasons Hotel Madrid.
A MIRACLE THAT IS BORN IN THE DEHESA
This bellota ham belongs to the Centenary Edition 2015. To commemorate 100 years of excellence in bellota ham production, from its origin in the Dehesa, FISAN has selected the best pieces, which have been carefully and painstakingly cured for around 100 months.
This miracle of cuisine comes from a very early and plentiful Montanera, with stable weather conditions as regards temperature and rain, which favoured the optimal preservation and use of the acorns.
Its excellent flavour is characterized by a wealth of herbal and nutty nuances. With a bright purple lean and rich marbling, it offers a mild, lingering and noticeably sweet aftertaste.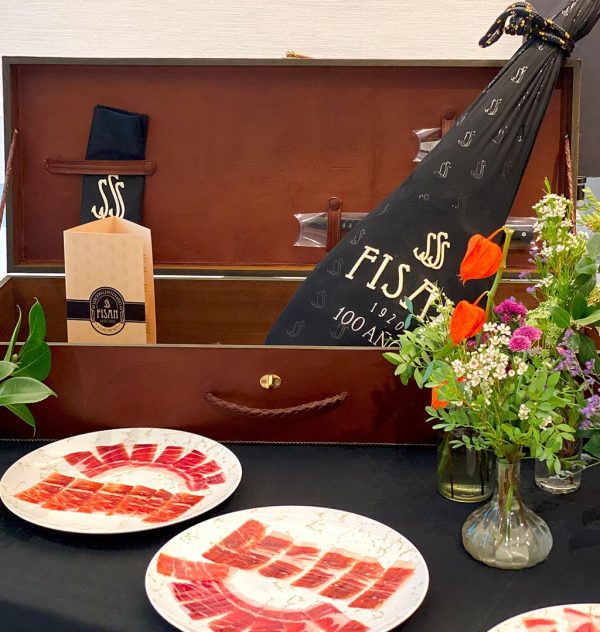 FISAN Ham Centenary Edition Alta Gastronomía 2015.
AN EXCLUSIVE PIECE FROM AN EXCEPTIONAL MONTANERA
Despite the poor rainfall and scarcity of fruit (acorn), FISAN achieved an excellent campaign thanks to a double Montanera, which was key for its pigs to enjoy between 2 to 4 hectares of the best Dehesas in Extremadura and Andalucia, more than twice the required
by the Iberico pig quality standard.
FISAN Ham Limited Edition Alta Gastronomía (2019) is a unique piece that has been carefully and patiently cured for around 60 months
in natural dryers and cellars, in a dark and quiet atmosphere.
Its captivating flavour is marked by nutty nuances, as well as the sweet notes that are characteristic of acorns, all with the optimum touch of salt. With a homogeneous bright reddish colour, its flavour is mild and sweet in the mouth, with a very aromatic taste that lingers on the palate.
AN IMMERSIVE EXPERIENCE AROUND BELLOTA HAM
FISAN continues to showcase and boost Iberico culture by collaborating with luxury hotels. This time it has chosen the fabulous Four Seasons of Madrid, one of the liveliest meeting points in the Spanish capital, to present its most premium pieces. During the event, the guests had the chance to enjoy the flavours and aromas of FISAN hams in a unique and unrepeatable way thanks to the amazing creations of the Barcelonian chef Pau Eche.
A special immersive experience that revolved around a creative menu designed for the occasion based on Bellota ham, where fascinating creations such as FISAN Mogote Tonkatsu, FISAN Bellota Coppa pancake with shrimp, or Pear and yoghurt tarte Tatin with touches of FISAN Ham stood out. Besides, the attendees were able to learn firsthand the art of carving in a masterclass delivered by the master carver Jorge Casado, who provided practical advice on carving and
presentation.
The Sánchez Family and Chef Pau Eche during the presentation of FISAN Ham Limited Edition Alta Gastronomia 2019
UNIQUE HAMS AND EXCELLENT WINES

An unforgettable gastronomic experience that could not be complete without a luxury accompaniment: Grupo La Rioja Alta's excellent wines. The winery sought its most select wines such as Lagar de Cervera 2022 (D.O. Rías Baixas), Áster El Espino 2020 (D.O. Ribera del Duero), Finca Martelo 2019 (D.O. Ca. Rioja) and Viña Arana Gran Reserva 2015 (D.O. Ca. Rioja) to enhance the unmistakable flavour of FISAN hams, which are characterized by their texture and intense, deep, and lingering taste.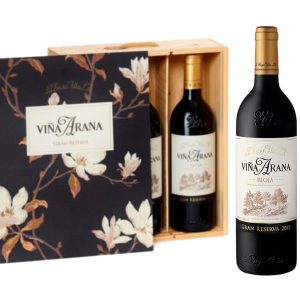 Rioja Alta wines were part of the gastronomic menu that accompanied the presentation of FISAN Ham Limited Edition 2019.
Some of the dishes that the attendees had the opportunity to enjoy in this Iberico feast: