One of the most special and expected activities among those who visited our Salón Gourmets stand was the Vertical Tasting of three FISAN hams from the 2012, 2015, and 2019 produce. A unique tasting because of the extraordinary nature of the pieces, which all the participants had the opportunity to enjoy.
Miriam López Ortega, CEO and founder of "Jamón Lovers", took part in this singular event, artfully running this original tasting as an intrepid journey through each of these three exceptional production years. A trip for the senses that began with the birth and rearing of each pig, through each year's montanera, to then engage in a sensorial assessment of each of the three pieces, considering its external appearance as well as that of its lean and fat after cutting, its aroma, taste, texture, and persistence.
For the tasting, we also relied on an exceptional panel of judges, which included food journalist Julia Pérez Lozano, sommelier Álvaro Prieto, known for his exquisite taste, sharp sense for capturing sapid harmonies, and commendable discretion, and Javier Sánchez Hernández, FISAN's Commercial Director.
But the indisputable stars of the event were the three exclusive pieces produced by FISAN that we chose for such an important occasion, which are described below.
VINTAGE 2019. Bellota Iberico Ham, 75 % iberico breed
From pigs from a Dehesa in Encinasola (Huelva), "La Campanilla", from a farming family that has been with us since our grandfather Fidel began his journey in the world of Iberian.
MONTANERA VINTAGE 2019 :
The montanera grazing period was late, but with optimal results. Despite the acorns began falling late and they were scarce in certain areas, their quality was excellent thanks to the great extent of our dehesas and our double grazing period for the pigs. The result was an extraordinary quality in the acorn-fed products from this campaign.
2019 FISAN ALTA GASTRONOMÍA TASTING:
The nutty nuances stand out, as well as the sweet tones that are typical in acorns, thanks to the right amount of salt. It has a bright, homogenous red colour. Its flavour is smooth and mellow, with an aromatic taste that lingers on the palate.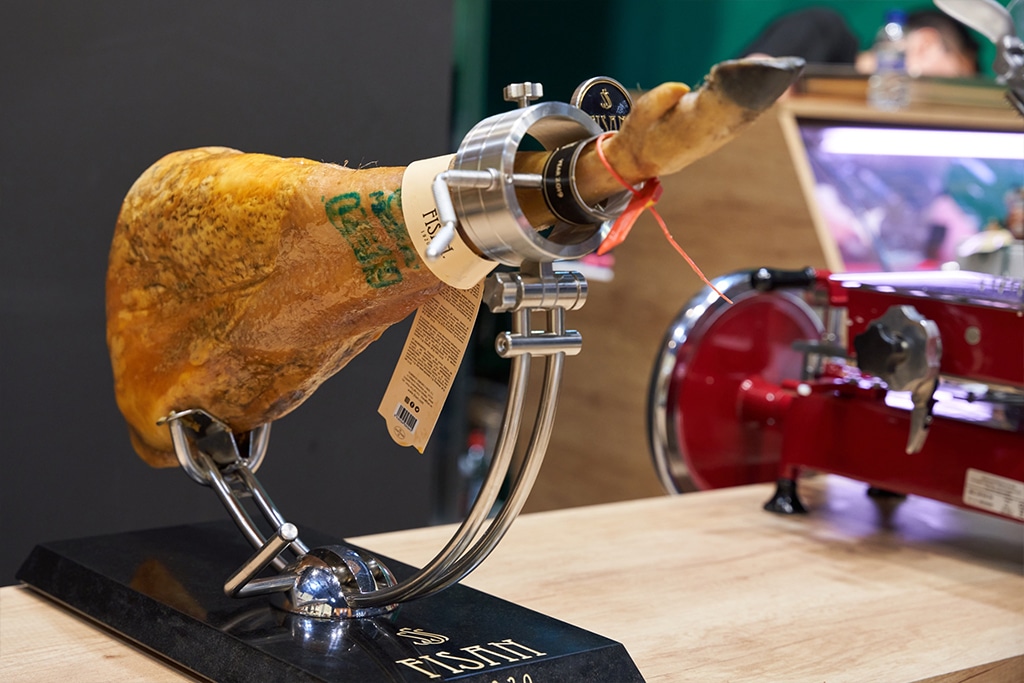 VINTAGE 2015. Bellota Iberico Ham, 75 % iberico breed
We locate pigs from a farm in Villanueva de Córdoba (Córdoba), "Las Pinillas", owned by a family that has been working with us for more than 30 years.
A very special piece, with more than one hundred months of healing, which will be part of the FISAN 2023 Limited Edition.
MONTANERA VINTAGE 2015:
Very early montanera (the final phase of the acorn breeding period) with an abundance of large nuts. Thanks to the high rainfall, the meadows had a splendid autumn and favoured the growth of the grass. The pigs during the montanera crossed the maximum extension of the meadows, achieving the optimal use of acorns. Exceptional montanera.
2015 FISAN ALTA GASTRONOMÍA TASTING:
Intense colour and balanced greasiness. Soft and juicy texture. Aftertaste with a variety of intense nuances.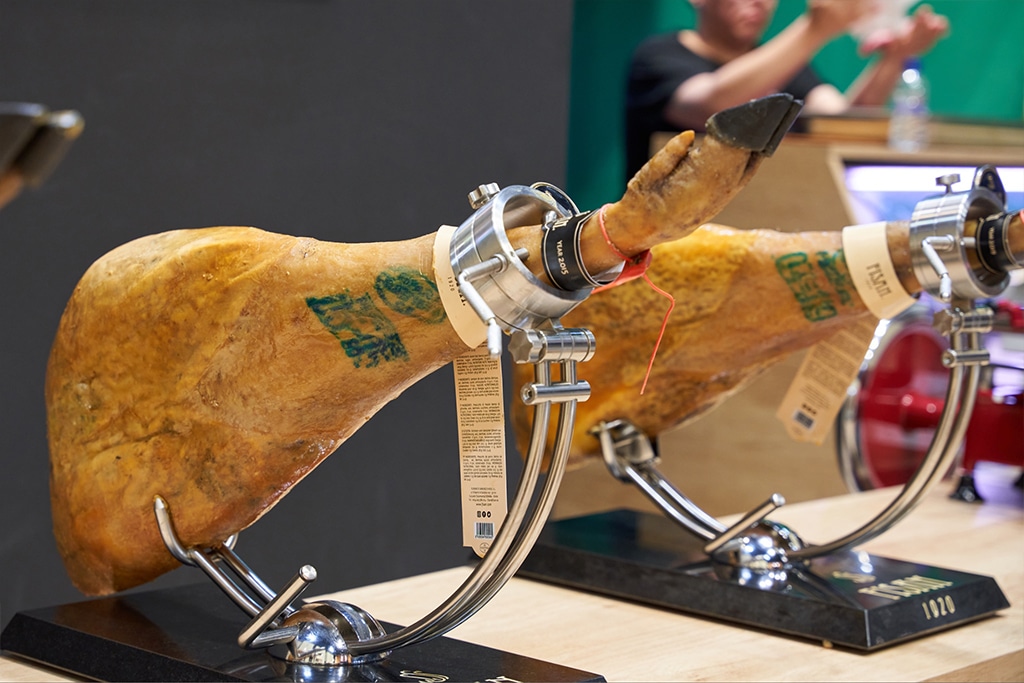 VINTAGE 2012. FISAN jewel in the crown
An exceptional and unique piece, since it was the last ham of this vintage, which we kept for such a special occasion as this tasting.
From the "Tozuelo de San Juan" farm, located in Trujillo (Cáceres), from the Vázquez family, second generation of farmers, and friends of the FISAN family for many years.
The first thing that caught the attention of this piece was the blue color of its seal. It must be taken into account that it is a ham from the 2012 vintage, prior to the 2014 Iberico Quality Standard. Before that, there was the 2007 Standard, which did not identify Iberico hams with the colored seals that we know today. If this ham had been made after the 2014 standard came into force, it would have carried a red seal, corresponding to a Bellota Iberico Ham, 75% iberian breed.
A real treat for the senses!
MONTANERA VINTAGE 2012:
Montanera (free-range period) with an abundance of fruit on both the Holm Oaks and Cork Oaks. The bitter cold and the lack of rainfall during the winter have allowed for full profiting of the acorns, with this year 2012 being considered as one of superb quality and profiting of the FISAN Bellota Iberico Pig.
2012 FISAN ALTA GASTRONOMÍA TASTING:
Vibrant colour, intense aroma. Nutty tones, depth of flavour in mouth with sweet hues. Smooth and juicy texture.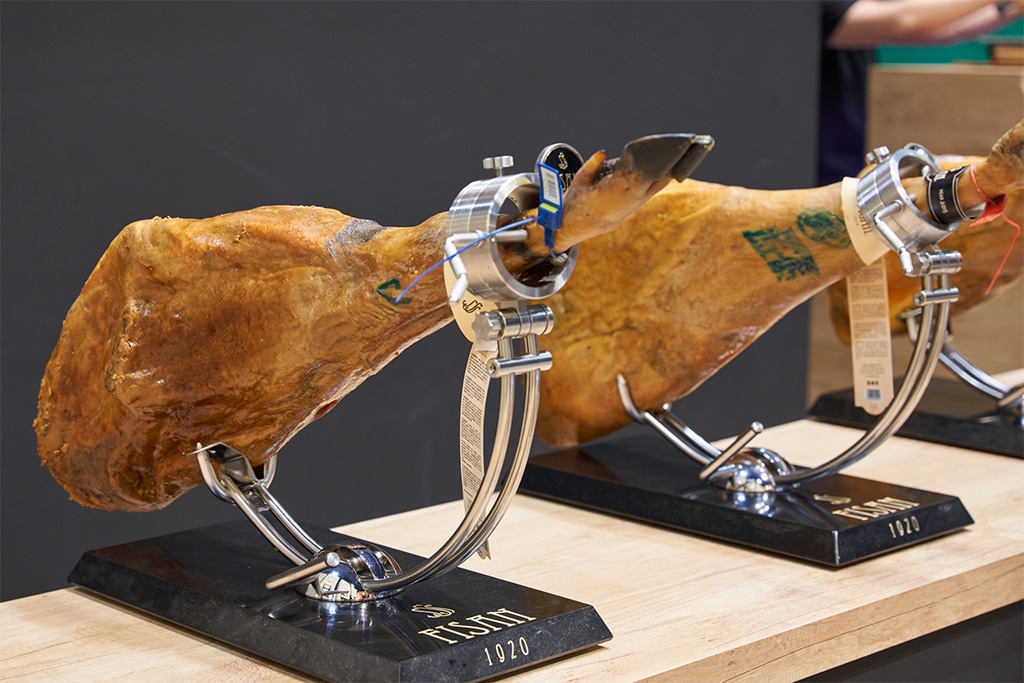 A great gastronomic experience
The purpose of this tasting was that participants could experience and enjoy the flavour of FISAN ham, taking them on a journey through three masterpieces from three very different years: 2012, 2015, and 2019. Nonetheless, they have much in common, starting with FISAN's passion, know-how, and more than one hundred years of experience in producing bellota products of the highest quality.
At FISAN, each montanera begins in the dehesa, and, after more than one century, it is only through great effort and commitment, working along a path with no detours towards the highest quality, that we can continue to offer our Traditional Flavour in Haute Cuisine.